Cycling
Whether you are a road cyclist or a mountain biker, you will find a wealth of exciting routes to explore at your leisure in the Clwydian Range and Dee Valley AONB.
Our mountain biking is some of the best in Wales with challenging climbs, technical single-track and swooping descents. Cycling centres of excellence such as OnePlanet Adventure in Coed Llandegla Forest offer custom built trails for all ages and abilities, each one graded to give you an idea of what to expect before you set out. There are dedicated skills areas for a spot of practice, award-winning cafes and bike shops to buy, hire or tune-up.
Did You Know?
Ride North Wales is a dedicated website where you can find a complete guide to everything cycling in the area, as well as downloadable route cards, GPX files, accommodation providers and bike facilities.
Endorsed by the thousands of visitors that come here to ride our trails each year, we also attract several big mountain biking events, such as the North Wales Downhill Series, the British Downhill Series and the MTB Marathon Series. Why not join in or simply watch from the sidelines and see how the experts do it.
Our miles of leafy lanes winding through stunning landscapes offer a fantastic way of getting your fresh air and exercise whilst seeing the AONB. There is always something interesting to discover, such as welcoming villages, hidden gem restaurants, and of course our varied wildlife. The Prestatyn-Dyserth Way is a perfect example of an easy route for families. A flat four-mile wildlife corridor that follows an old railway line, where you can enjoy the rare wildflowers, butterflies, voles and kestrels before discovering the secret cafe in the old goods shed, offering some welcome refreshment as well as the chance to buy local arts and crafts.
Looking back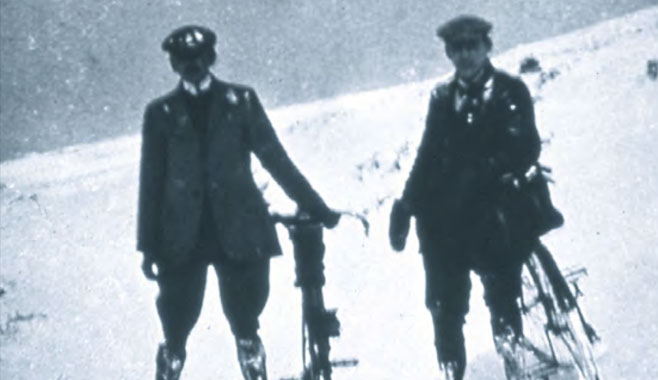 Anfielders "Wayfarer" and WP Cook climbing Nant Rhydwilym
The conquest in wintry conditions of one of the most challenging and beautiful passes in Wales, in the Berwyn Mountains. From an article dated 8th May, 1919.