A Day in the Life: Sallyanne Hall
Introduction
I am originally from Kent in England and have lived in Wales for 2 years having fallen in love with the landscape and culture whilst studying a degree in Countryside Conservation at Aberystwyth University. I have worked for the AONB since 2018.
Job description
My job title is Community Engagement Officer for The National Lottery Heritage Funded Our Picturesque Landscape Project, which is a 5-year project focussing on the Dee Valley from Corwen to Chirk within the AONB and the Pontcysyllte World Heritage Site. I am part of a small team working directly on this project but we work alongside the wider AONB team and a number of project partners. In my role my key responsibilities are to plan and deliver events and activities for people from all walks of life living in the communities in the Dee Valley and following the theme of our project. This involves a huge variety of activities such as art sessions, family activities, outreach sessions, wildlife discovery and practical conservation activities. I also develop resources to help people discover the fascinating history and heritage of the area and develop picturesque walks and make access improvements to help people explore more easily. My role also involves working with others to improve habitat management increase biodiversity and reduce the problems of invasive non-native species and restore heritage sites such as The Dell at Plas Newydd and some aspects of the local industrial heritage. My job is so varied it is quite difficult to put it in a nut shell!
My day at work
My average day is far more office based than most people would imagine. Whilst writing this in December I would say a regular winter day would include spending a lot of time planning events for the programme for the next year and organising resources and activities for next seasonal event coming up. For the forthcoming event I will need to promote it in the press and make and distribute posters.
I am often recording what we have already accomplished as a project as well promoting past activities with photos and reports on social media and in the press and discussing the latest progress report for the National Lottery and ensuring I have kept up to date records of the numbers of people attending and feedback from past events.
In between all the events and planning I can escape the office and head out to do some way marking or route research on the latest picturesque circular trail and show a local contractor what access improvements we need to achieve along a chosen route.
The emails are always flying in; one minute I could be checking the editing on a film for an event we have commissioned, the next proof reading for a leaflet we are designing or commenting on the latest image we have commissioned for the OPL project branding.
Is there a downside?
I spend a lot more time indoors on the computer than I would choose to do in my ideal world!
What I love
I absolutely love working in the stunning landscape of the CRDV AONB and feel very lucky to do so. I love the variety within my job which means that no two days are the same. I enjoy being part of a network of likeminded and passionate individuals. I find it so rewarding working directly with members of the wider community and enabling them to try new activities and discover new things about both themselves and where they live.
My favourite site
Penycloddiau.
My favourite view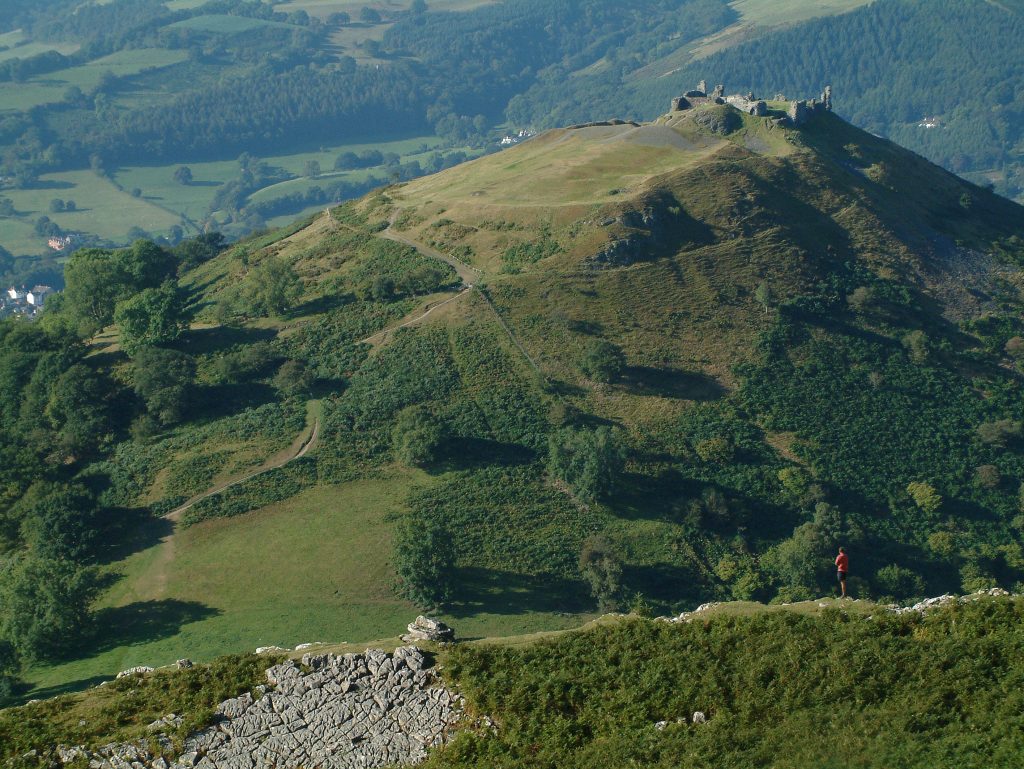 Castell Dinas Bran from the Panorama.
Related