Hillfort: Moel y Gaer Llanbedr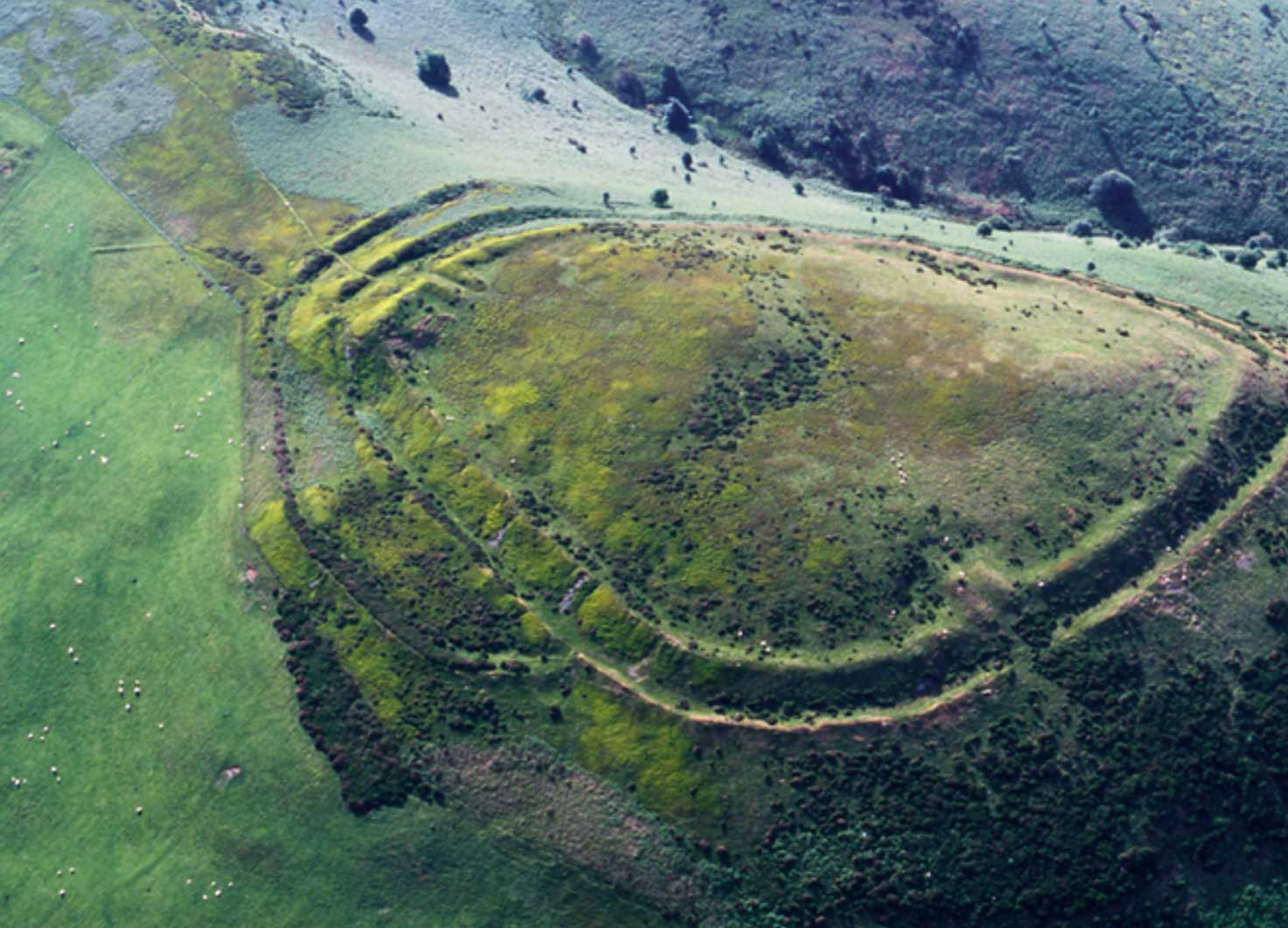 Moel y Gaer Llanbedr is located on a westerly spur off the central ridge of the Clwydian Range with commanding views over the Vale of Clwyd.
Covering three hectares it consists of a main enclosure with a D-shaped annex to the side that may have been used to keep animals in.
The hillfort has just a single set of ramparts. To the south they are slight but to the north and north east, where a low saddle of land links the spur to the main ridge of the Clwydian Hills, they are larger and include a complex entranceway where banks acted as a funnel to make it harder for people to attack.
A further entrance cuts through the ramparts on the western side, although it's hard to believe this was used due to the steepness of the slope.
Moel y Gaer Llanbedr was excavated in 1849 by W Wynne Ffoulkes. According to published plans [i] two trenches were dug just inside and south of the main entranceway. Apparently the only artefact located was a potsherd described as "Roman pottery, well fabricated and of deep red colour". Wynne Ffoulkes does refer to discovering extensive burning in the inner rampart close to the gate.
In the 1920s Ellis Davies [ii] could find no traces of habitation of any kind although Forde Johnston suggests in the mid 1960s that one possible hut platform is visible [iii]. He proposes two possible construction phases – an inner bank, ditch and counterscarp bank followed by an outer ditch and counterscarp bank on the northeast side.
Willoughby Gardner also suggested that there might be chevaux de frise (a sort of movable spiked defence) in the second ditch, although this has not been looked at.
A topographical survey in 2007 by Engineering Archaeology Services (EAS) found 15 possible hut platforms within the interior. They also noted an area of intense burning at a sheep scrape near the entrance and found a piece of burnt material which may show evidence of vitrification.
In 2008 EAS and volunteers carried out a further survey suggesting there was an earlier, simpler entrance to the hillfort which was at one point burnt.
[i] Wynne Ffoulkes 1850 Archaeologia Cambrensis
[ii] Canon Ellis Davies 1929 Prehistoric and Roman Remains of Denbighshire
[iii] Forde Johnston 1965 Archaeologica Cambrensis
How to get there
No footpaths lead directly to Moel y Gaer but there are stunning views of it from Offa's Dyke National Trail to the east and from a public footpath to the west. Start both routes from Moel Famau Iron Gate car park.
OS map: Explorer 265. OS grid reference: SJ149617
Related